Spring/Summer Travel Guide Available
March 1, 2021
Spring/Summer edition of Iowa Travel Guide now available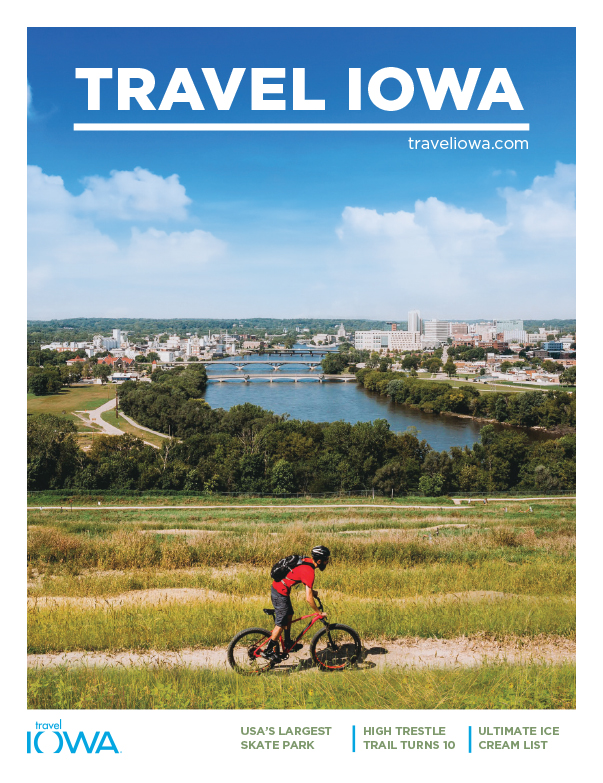 March 1, 2021 (Des Moines) — The spring/summer edition of the Iowa Travel Guide is now available for travelers who want to learn more about exploring Iowa. The free guide can be ordered online at traveliowa.com, by phone at 800.345.IOWA or picked up at any of Iowa's 16 Welcome Centers. An online version is also available.

The 139-page guide includes listings for hundreds of authentic and unexpected destinations, cabins and campgrounds. Editorial content features the Surf Ballroom in Clear Lake, Lauridsen Skate Park in Des Moines, dog-friendly wineries and breweries, and the High Trestle Trail's 10th anniversary. The Ultimate Ice Cream List includes more than 80 locally owned ice cream shops, as suggested by followers of the Iowa Tourism Office's social channels.

The guide's cover showcases Mount Trashmore, a former landfill site that boasts trails for hiking and biking plus an overlook that provides impressive views of Cedar Rapids.

"We know there is pent up demand to travel and that many people will start with more local road trips when they feel comfortable to venture out," said Jessica O'Riley, tourism communications manager for the Iowa Tourism Office. "The spring/summer travel guide provides a wealth of ideas to inspire travel within our borders."

Tourism in Iowa generates nearly $9 billion in expenditures and $517.5 million in state taxes, while employing 70,200 people statewide. The Iowa Tourism Office is part of the Iowa Economic Development Authority. For more information, visit traveliowa.com.