Iowa Tourism Organizations, Individuals Receive Awards at 2023 Conference
March 23, 2023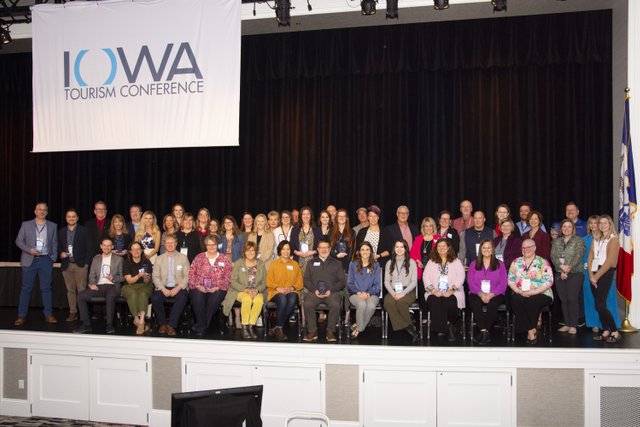 The Iowa Tourism Office presented 25 awards recognizing excellence in the tourism industry during the 2023 Iowa Tourism Conference in Altoona this week.

"We continue to see tourism rebound in Iowa," said Amy Zeigler, state tourism manager for the Iowa Tourism Office. "Events are definitely back, as evidenced by the 25 nominations we received for Outstanding Event. We look forward to continuing the positive momentum in 2023."

Awards, divided into metro and rural distinctions, were made in 13 categories. In addition, conference attendees voted for the People's Choice Award; nominees were the second-highest scoring nominations.

The complete list of 2023 Iowa Tourism Award recipients:

Outstanding Attraction
Wilson's Orchard & Farm, Iowa City (Metro)
Surf Ballroom & Museum, Clear Lake (Rural)

Outstanding Community
Council Bluffs (Metro)
Winterset (Rural)

Outstanding Dining Business
de Kelder Speakeasy, Pella (Metro)
Harvestville Farm, Donnellson (Rural)

Outstanding Diversity, Equity and Inclusion Initiative
Iowa State Fair Sensory-Friendly Morning, Des Moines (Metro)

Outstanding Event
Beyond Van Gogh: The Immersive Experience, Council Bluffs (Metro)
Sidney Iowa Championship Rodeo (Rural)

Outstanding Individual Leader
Joshua Schamberger, President at Think Iowa City (Metro)
Delaney Evers, Tourism and Main Street Director at PACT, Centerville (Rural)

Outstanding Lodging Property
King's Pointe Waterpark Resort, Storm Lake (Metro)
Field of Dreams Movie Site, Dyersville (Rural)

Outstanding Marketing Collaboration
Cedar Falls Tourism & KWWL (Metro)
Tour O'Brien County (Rural)

Outstanding Niche Market Initiative
Catch Des Moines (Metro)

Outstanding Promotional Material
Catch Des Moines (Metro)
Iowa Valley RC&D, Amana (Rural)

Outstanding Retail Experience
The District: Czech Village & New Bohemia, Cedar Rapids (Metro)
Cody Road Shopping District, LeClaire (Rural)

Outstanding Social Media Execution
Meet Ottumwa (Metro)
Wright County Fair (Rural)

Outstanding Website
Visit Fort Dodge (Metro)
Jefferson Matters: A Main Street & Chamber Community (Rural)

People's Choice Award
Travel Dubuque and Voices Productions

The Iowa Tourism Office, part of the Iowa Economic Development Authority, works closely with community partners, attractions and events, to promote the state's beautifully vast scenery and unique history. Tourism in Iowa generated $1.8 billion in tax revenues in 2021, with more than $1 billion supporting state and local governments, while employing a total of 65,000 people statewide. For more information on everything Iowa has to offer tourists, visit traveliowa.com.

Note to editors: Images from the awards ceremony are available for download here.